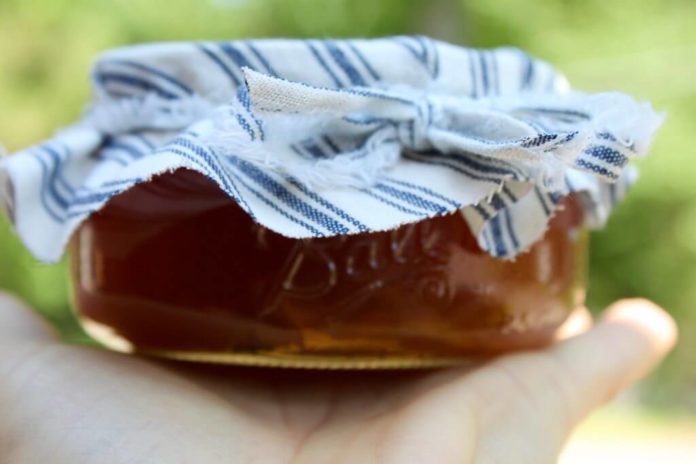 I'd never heard of tea jelly before I started seeing Davidson's Organic Tea demonstrate how to cook with the stuff.  Such as . . .
White Pomegranate Tea Jelly Gastrique
Earl Grey Eggnog Cookies
Then I started thinking of making tea jelly myself; using the aforementioned Davidson's loose leaf teas; which I love from the bottom of my deepest teapot.
Davidson's premise; (and I agree with it); is that as long as you're going to be drinking tea; why not make it organic tea? The best organic tea. Especially if tea is a part of your daily lifeblood; like it is mine. Better for your body; better for the earth.
When my daughter saw a jar of my homemade jelly she asked; "What's this?" and tried it; she then said; "We've got to hide it from the others." It tastes like a refreshing lemon iced tea you can spread on your toast. Or over cream cheese on a bagel; or on top of chevre over a crisp cracker.
It also makes a tasty and interesting gift.
First; a boxed set of four jars of their house made tea jellies: Earl Grey; Classic Chai; Coconut Vanilla; and White Pomegranate
Then; a 2 oz. pack of Organic Dunsandle Nilgiri Loose Tea.
For tea jelly; which I made the other day for the first time; I chose a delicious Oothu Black.
It has a delicately floral yet rich flavor; which I thought would pair well with the organic lemon juice and zest I wanted to blend in. It did.
Organic Black Tea & Lemon Jelly
Makes almost 3 pints
4 1/2 cups boiling water
6 Tablespoons loose organic black tea
1 package low-sugar pectin
3 cups raw organic cane sugar
1/2 cup organic lemon juice
zest of two organic lemons
Combine the tea leaves with the boiling water and allow to steep for about 10 minutes until you have a nice; rich brew.
Strain out the tea leaves and pour the tea into a medium saucepan.
Add the lemon juice and zest.
Bring to a boil.
While that comes to a boil; measure out the sugar.
Remove 1/4 cup of the sugar to a separate small bowl and add in the contents of the pectin package. Stir.
Pour the pectin/1/4 cup sugar mixture into the tea mixture and return to a boil.
Add in the remaining sugar and allow it to return to a full rolling boil and boil for 1 full minute; stirring constantly.
Remove from heat.
Pour into prepared sterilized canning jars and screw on lids using standard canning methods.
Process in a water bath for 10 minutes.
Remove from boiling water and allow to cool. Let sit undisturbed for at least 24 hours before opening.
I'm joking. Sample it as soon as you can find some worthy bread/cracker/cheese combo.