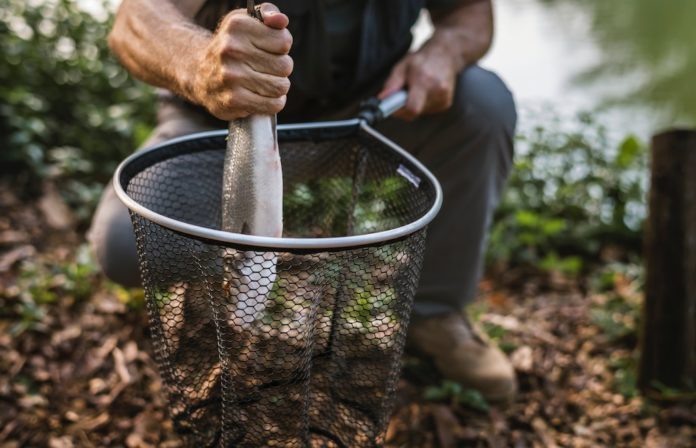 So you have decided to build your wilderness survival skills set and are wondering how to add fish to the menu? You are in luck, this is the article for you! I am going to go through several survival fishing scenarios using various levels of preparation to give you some ideas of what you can do to catch a fish in an emergency situation. I will wrap up with thoughts on cleaning and cooking at the end; just because you are in an emergency situation does not mean you need to eat poorly-cooked fish!
AUTHORS NOTE ON SURVIVAL SITUATIONS: Emergencies vary greatly. If you are in a dangerous situation during which stopping to fish will risk your wellbeing, you need to keep moving. We could discuss specific situations, but for the broad scope of this article let's assume you are not under any present danger from terrain, weather extremity, or animal / human threat. Let's also assume you are near a body of water where fish are if not abundant, at least present in sufficient numbers for success.
SURVIVAL SCENARIO #1
YOU HAVE A KNIFE, SURVIVAL FISHING KIT, AND FIRE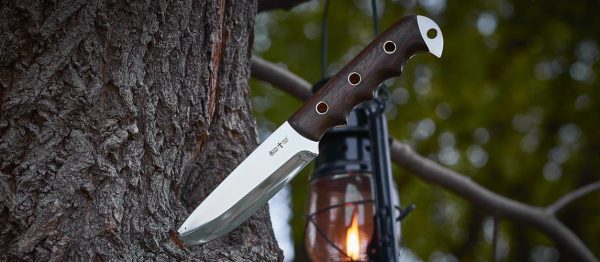 This is by far the best-case scenario for an emergency situation in which you need to catch and eat a fish. If you do not have a survival fishing kit, click here to check out a DIY guide to creating a good survival fishing kit from the supplies most fishermen already have.
However, if you do have a survival fishing kit, and can successfully catch a fish through normal means, you now come to the point of cleaning and cooking your catch. Let's cover that after we go through some other potential emergency situations!
Related: How To Choose The Best Tactical Knife
SURVIVAL SCENARIO #2
YOU HAVE A KNIFE AND NO FIRE
OK, so you accidentally left your survival fishing kit behind when you got yourself into an emergency situation, and now you need to catch a fish.  Let's discuss some good ways to catch a fish with your knife!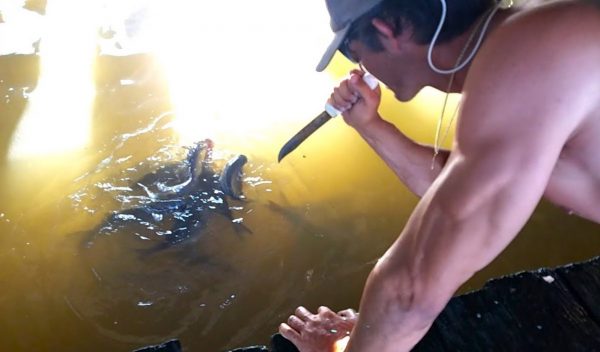 If wood is available, a spear is always an option and can double as a hiking pole when you are not using it.  Contrary to the way Hollywood portrays this action, this is not as easy as it looks. First, let's talk about the spear.
Select a pole around 6-8' in length, 1-2" thick.  The pole should be either green or nearly green, dead wood is brittle and will break too easily.  Instead of carving a simple point on the spear (even with barbs this is just not efficient) take the blade of your knife and split the end of the spear down about 6".  I find the easiest is to make two splits, ending with four 6" sections on the tip of my spear.
Place small sticks in the grooves (smaller stick on the bottom, larger on top) and use a piece of shoelace or vine to secure the separators.  Then carve barbed points onto the four well-spread split sections and you have effectively created a paralyzer tip for your spear, giving you the highest likelihood of retaining your fish when you spear it.
BE CAREFUL WITH YOUR SPEAR TIP!
An hour of work can be destroyed with one careless toss into the rocks. Try to spear horizontally along the water, where even if you miss, your spear does not impact rock or soil.
If you do not have wood available, the knife will not help much catching the fish unless you are skilled at throwing it, move onto Scenario Three!
Related: Why Every Prepper Needs a Speargun
SURVIVAL SCENARIO #3
YOU HAVE NOTHING BUT CLOTHING AND GOOD SHOES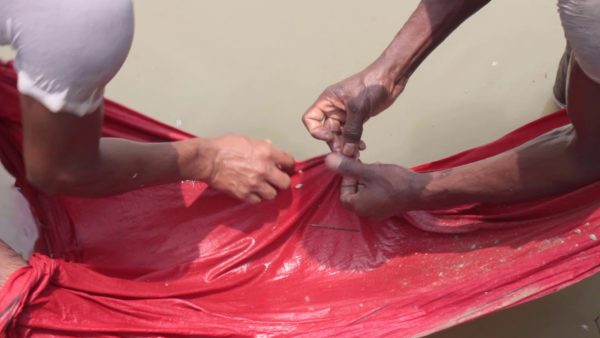 This is by far the worst scenario imaginable. Here you are in the middle of an emergency situation with nothing, no knife, no fire, nothing you can use to your advantage.  However, there are ways to catch a fish, if you have patience and a good eye for advantageous situations.
IN EMERGENCY SITUATIONS WHERE YOU CAN POTENTIALLY CATCH A FISH, YOU WILL BE IN A BACK COUNTRY ENVIRONMENT AND NEED TO RETURN TO MORE CIVILIZED REGION TO ABATE THE EMERGENCY.
In this situation a good rule of thumb is to follow a water source as it flows downstream.  This will eventually lead you to a civilization.  An exception I have found in high-altitude situations is that it is good to follow at a distance because the rapid changes in altitude during the water's decent mean terrain that is difficult or impossible to traverse without a rope.
As you follow the water source, be on the lookout for small channels leading away from the main body of water.  If you can successfully chase a fish or small group of fish into a shallow channel the potential to club or stone one is far higher than in their natural swimming environment.
Look for ripples in the water.  This indicates a shallow flow over rocks.  When the fish are swimming through an area like this, they are easier to stun with a club or rock, because the projectile loses less force from water friction and you can pin the fish to the bottom.
Fish can be attracted to saliva.  If you are in an emergency situation and come to pool without movement, try spitting! This can sometime bring out fish that are lying out of reach and unseen.
Related: DIY Hunting Fishing Cooking Kit for Preppers
CLEANING YOUR CATCH
So let's go through two situations:
YOU HAVE A KNIFE
This should be self-explanatory, clean the fish as you normally would.  Save head and guts for fishing bait or to bait your snare traps.  Remember, you can eat the bones of smaller fish, up to 6-8" long, without stomach issues.
YOU DO NOT HAVE A KNIFE
So you can eat all parts of the fish, but let's imagine you would like to only eat the tasty parts.
First scrape off the scales as best you can by rubbing the fish from tail to head with a rough object.  Then take a rock or sharp stick and create a slash or gash across the neck.  Insert your finger and push until you reach the anus (small hole by the tail), force your finger out through the anus, and rip the guts and belly out.  It is easier than you think and now you are ready to cook!  Leave the head on, cutting it off crudely will remove good meat from the back of the skull.
COOKING YOUR CATCH
Again, let's go through two situations:
YOU DO NOT HAVE FIRE
Hope you like sushi, buddy!  While you can cook on a hot rock in the midday sun, go ahead and man up to have a bite at this point.  Working from the dorsal fin use your teeth to tear down the flesh along the ribs, this will ensure you get more meat and less bone in your bites and lets you efficiently strip the body.
YOU HAVE FIRE
At this point, if you have included a small packet of salt in your survival fishing kit you are going to be eating pretty good! I see many people trying to roast the fish on a pointed stick, which is not a bad idea, but we can do better. If you find a fish-sized plank of wood, soak it in water for 30 minutes, then lay in a bed of hot coals with the fish in the center. As the wood smolders it will bring a nice smoky flavor to your catch. Large, flat stone will work well in the middle of your coals as well.  Be sure the wood is not a toxic variety and also that the stone does not have water inside (river rocks often do) that will cause it to explode when heated.
Good luck!