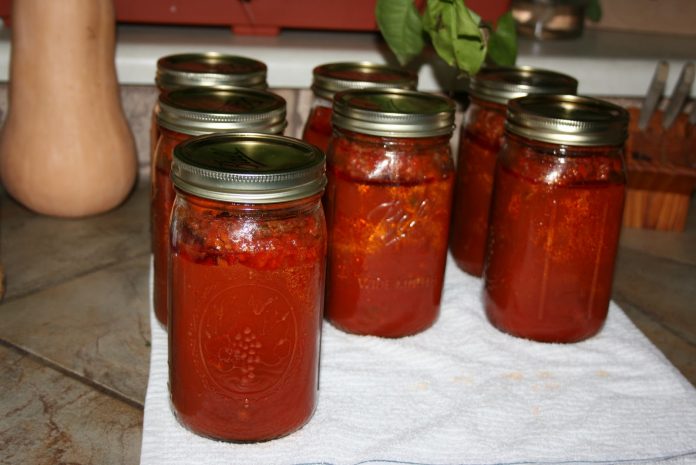 On my storage shelves I love having meals in a jar. Instead of spending hours preparing, it is so nice to have a good warming meal ready in just a few minutes.
I was looking for a canned meatloaf recipe. I found several of them on the Internet, but I wasn't comfortable doing the mix by putting them raw in a pint jar and then process it in a pressure canner.
If you're like me, you usually swim in fat if you're taking meatloaf for dinner in a loaf-pan. So I decided to create my own recipe, so I don't want to look at fat accumulation jars, and I think that high fat content will make processed food rancid quicker than not.
I made my own mixture, (recipe below). Here's what I did. Since this week I found a great deal with ground beef, I decided to use 10 pounds of meat and to see how many meatloaves I could make in a pot. But if any of you want to make smaller portions, the recipe for every 2 pounds of meat is broken down here. If you don't make a bunch like I did, you will have to guess at the tomato juice.
First, you'll need ground beef for this recipe. I got the low-cost ground beef. For every 2 pounds of ground beef you will need to add:
1 egg;
1/2 cup of onion, chopped;
1/4 cup of bell pepper, chopped;
1 1/4 teaspoon of salt;
1 teaspoon of garlic powder;
1/4 to 1/2 teaspoon of black pepper;
1/2 cup of oatmeal (uncooked).
Besides the items above, you'll need tomato juice in the jars to cover your meat. I used 10 pounds of ground beef and I ended up in need of 3 cans each of which was 1 quarter 14 ounces. I used Walmart's Great Value brand not only because it was cheaper but also because it was 100% juice and I could pronounce all the ingredients: tomatoes, salt and ascorbic acid.
I started by cracking my eggs in a very large mixing bowl, whisking them lightly with the garlic powder, salt and black pepper. I then added onions, bell peppers and oatmeal to the mixture and stirred it. I then started using my hands to work the 10 pounds of meat into this mixture.
In fact, I ended up using two large mixing bowls before I got all mixed and uniformed. Then I made patties on meatloaf. Yeah, patties the way you 'd make grill hamburgers. Speaking of grill, just wait for me to tell you what else I did with my cheap ground beef later.
Because you're going to be canning in broad mouth canning jars, take a big mouth lid and a band and bring in your meat mix. Don't over-stuff it like I did in this photo, or instead of the more standardized five, you'll only get four large patties in your canning jar. Just make it even with the band.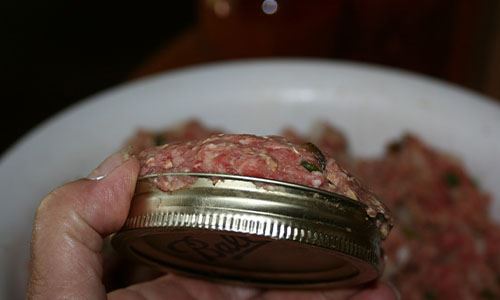 Then simply force the lid back through the band and remove the lid from the meat.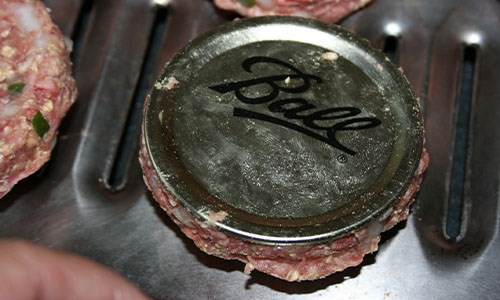 And there you go! You have an exact size portion of meat that will fit perfectly in your wide-mouth jar, after cooking and shrinking just a little.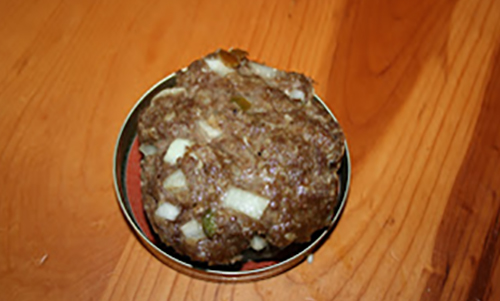 After forming my meatloaf patties, I put them on my broiling pan to bake. Most of the fat drains this way when it cooks. My pan held twelve patties at a time.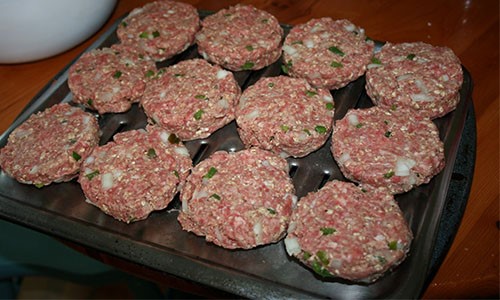 I baked these in a preheated oven for 30 minutes, 375 degrees. I traded one to see if everything was done. The onions were only a little crunchy but that will be taken care of by processing.
I put the patties on a platter when each pan was finished, covered them with tin foil and placed them in the refrigerator until I had enough to bring out a canner load. My canner has 7 quarts to do.
I washed my jars in the dishwasher, so that they were still hot. I had my lids and my bands simmering. I had my tomato juice on medium heat just at a simmer, making sure I always stirred to avoid scorching.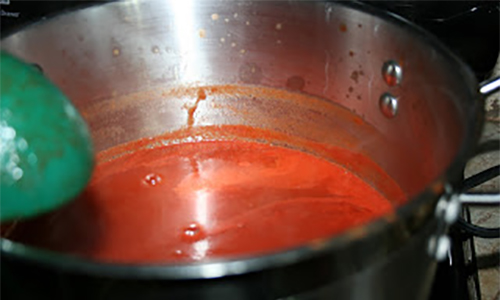 With simmering water I had my pressure canner ready. Because it took me a few hours to bake all the meatloaf patties, now some were just barely lukewarm. Five patties should fit in just under the 1-inch mark in a quarter pot.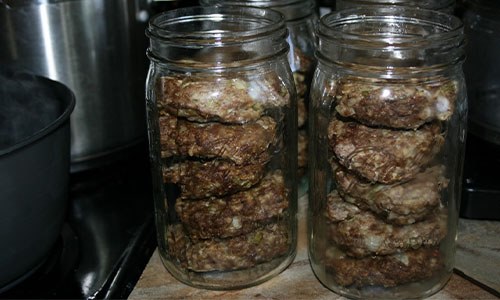 To warm them up, I put the jar in the microwave with meat and microwaved for a minute or so on high. My hot tomato juice was then ladled over the meat patties, covering the patties. To release any air bubbles I used a wooden skewer to run down the sides of the jar.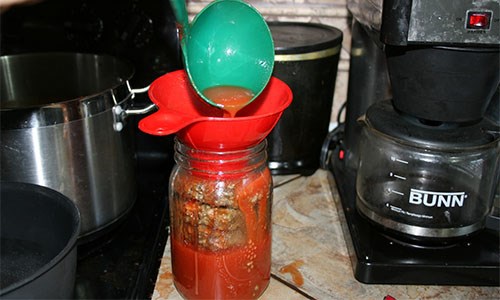 If you can something with meat or oil, use a white vinegar soaked paper towel to clean the rims off. This cleans any oil that you might have skipped, thus preventing a good seal on your bottle.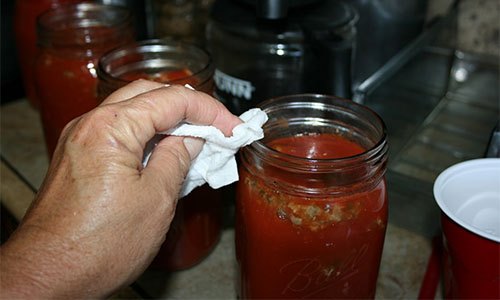 I removed the lids and bands from the simmering water and tightened each jar by hand, before adding all of them to the canner.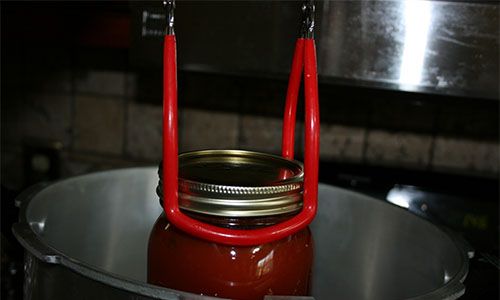 I had processed my quarts for 90 minutes after filling the canner and bringing my pressure up to 11 (I have a dial gauge). If you're trying this recipe and using pint jars, you'll only need to process for 75 minutes.
Even though I was on my jars at the inch mark, there was still some spill over from my bottles. The water in the canner had a light red tint from the tomato juice and my tomato juice had gone down into the jars. This did not stop my jars from sealing though, so they're OK.
I still see a bit of fat collected at the top after processing but not so much that I can not live with it. I have 3 more jars to process and I think I'm going to cut back on the tomato juice to see if the processing required more space in the jar to produce juices.
Related: Recipe – Strawberry Jam and Canning Tips
I used my own garden-grown onions and bell peppers harvested this year, and already had the spices and oatmeal on hand, so I don't know the exact cost of these kind of meals. Last week's beef and tomato juice cost around $20.00 and I'm going to get 10 quarter jars so that breaks down to about $2.00 a meal for me. Can't defeat that!
Each jar can easily feed a family of 3 to 4, unless you've got very big eaters. I think it'd be perfect for mashed potatoes, or it'd be nice for some pasta. Some people like a sweet glaze over their meatloaf and you could add a bit of brown sugar to the tomato juice and serve over the patties for those who do, after opening a jar for heating.
PS: The next day I used slightly less tomato juice to process the remaining bottles. I was still having liquid running over during processing. I think there might be a lot of trapped air when I bring all the patties in at once, and then pour the tomato juice over it all.
I will make sure to add one patty at a time for my next batch, and pour the juice individually over each patty. There has to be a reason this doesn't work as planned. All the jars have a good seal, despite the juice and some fat content spilling over.
Note: I know the food police are not recommending canning anything with eggs or oatmeal, but this has been done by the Amish for years and sometimes not even with a pressure canner. I never heard reports of them dropping dead on a daily basis with food poison. Just remember to do what's convenient for you.
Related: Canning Tomatillos
Originally posted 2020-06-28 07:00:37.