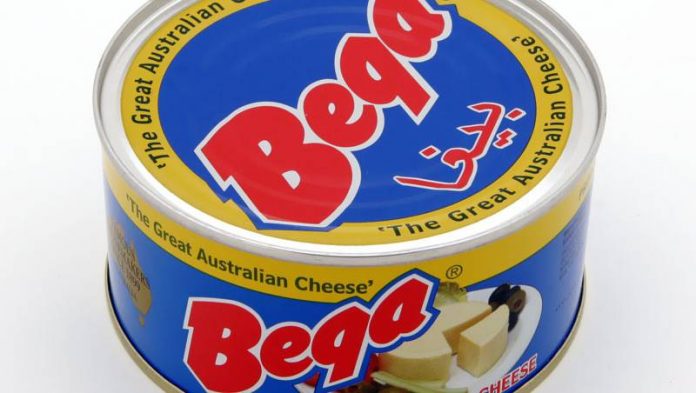 Once opened, we say the cheese should last about 4-6 weeks (if not longer), but this is dependent on how the cheese is handled and stored. It also depends on the quality of it.
There are dozens of canned cheese options out there, which makes it especially difficult to decide how to spend your money wisely.
We've scoured the internet reading manufacturer websites and user reviews to round up the tastiest options that boast not only great flavor but a long shelf life.
Since price is always a consideration, we've also taken that into account and have included estimates in each review on what you can expect to invest in this pantry staple.
Certain canned cheeses are better for particular situations, and some are ready to eat while others require rehydrating. We've included all the details below to help you choose the best option for you.
Saratoga Farms Freeze Dried Mozzarella Cheese
Saratoga Farms is a well-known brand among emergency preppers, and their freeze-dried cheeses are a top-notch choice to add to your pantry.
They come in a #10 can with a 300 cc oxygen absorber packed inside which gives them an up to 30-year shelf life. Once the package is open, you'll want to keep the product in a cool, dry place to maintain freshness.
Each container has 99 servings, and it's one of the more affordable options on our list. You'll pay around $40 per can, but there are lots of bulk discounts available. For example, if you purchase a 3-pack, you'll get it for approximately $115, and the total cost of a 6-pack is right around $200, or just $36 per can.
Regarding taste, while users say it's decidedly not gourmet cheese, it has a delicious generic mozzarella flavor and, once rehydrated, has the same texture and feels of fresh mozzarella cheese.
---
Provident Pantry Freeze Dried Shredded Mozzarella Cheese
Mozzarella cheese is a staple ingredient for many dishes like pizza, which you can make over an open fire with just a few ingredients. This freeze-dried option from Provident Pantry is flavorful and easy to use.
It comes in a #10 can, and includes 100 servings plus an oxygen absorber to keep the cheese fresh. Priced at around $45, this option has an extremely long and stable shelf life until it's opened.
Related: My First Batch Of Canned Cheese
---
Emergency Essentials Cheddar
If cheddar cheese is more your style, this product by Emergency Essentials will give you your fix. Another freeze-dried option, this cheddar is stored in a #10 stainless steel can with a double-enameled coating that will guard against rust and aging for up to 25 years, or until it's opened.
Not only is it the perfect flavorful addition to everything from tacos to biscuits, but it also rehydrates to be nearly identical to real cheese. It will even melt at warm temperatures to give you that gooey cheese texture everyone loves.
The 39-ounce #10 can hold approximately 137 servings and costs around $47. Note that anyone with allergies to milk (obviously), as well as eggs, soybeans, or peanuts, might want to steer clear of this option as it's made in a plant that processes all of the above.
---
Bega Canned Cheese
In addition to their widely popular creation, Vegemite, Australia has also produced another crowd-pleasing canned favorite, Bega Canned Cheese. With an over 100 year history, Bega is a well-developed product with a stable shelf life.
Unlike dehydrated cheese, this option is a spreadable texture that doesn't need any prep work before it's ready to eat. It's a similar consistency to blocks of Velveeta cheese that most Americans are familiar with, but it's not loaded with chemicals and food coloring.
The manufacturer says it can last for up to 10 years, and all you'll need to serve it is a can opener. It tastes great spread on crackers, bread, or toast and has a creamy texture and flavor.
There are a few downsides to this option.
First is the price. For six cans with six servings each, or 36 total servings, you'll pay around $40. Also, the containers will take up more space in your storage area than a dehydrated product. This could be the right choice for you if you have a significant amount of room and a larger budget for your food prep.
Related: The Long-Forgotten Cheesecloth
---
WSU Wazzu Creamery Cougar Gold Cheddar
If you're a foodie who wants gourmet cheese with robust flavor to perfectly pair with your wine, and you want it in a crisis than this luxury option might be the perfect fit for you.
Made by the WSU Creamery in Washington State, this student and educator developed cheese gives back a portion of their proceeds to the WSU food science department to provide educational support for the students.
Sharp white cheddar cheese in a can, this product has won awards worldwide for being delicious, having the perfect texture, and tantalizing taste buds. The best part? It's one of those cheeses that actually gets better the more it ages.
The current stock is only about a year old, and the longer it sits, the more crumbly and sharp the flavor will become. Eventually, it will develop cheese crystals, which are like gold to connoisseurs. They give a little crunch to the cheese texture and make for an interesting and complex flavor profile.
This is the most expensive canned cheese on our list. It's around $55 for 36 ounces, and the supplies are limited. Although it won't be the right option for everyone, it's decidedly worth mentioning if you love the finer things in life and want to stock your emergency pantry with that in mind.
---
Kraft Pasteurized Cheddar Cheese Product
A common misconception with the Kraft canned cheese product is that it's the same cheese that comes in their Macaroni and Cheese box.
That's not true. This option is another pale, creamy, spreadable cheese similar to the Bega product, but with a more cheddar-based flavor. Although it tastes a lot like the Mac and Cheese packet, the texture is entirely different.
Made in the Philippines, this option delivers a daily dose of calcium thanks to the fact it's manufactured from real cheese.
It comes in a 7.6 oz container with a pull tab on top and produces around six servings. The cost is around $11 per can, though you may find discounts if you buy them in bulk.
The main downside to this option is the shorter shelf life. The cans are made from thinner material, and while the pull tab is convenient, it shortens the amount of time it will remain fresh.
Kraft puts an only one-year expiration date on the cans, so if you're stocking up make sure you find a batch that is new to get the biggest bang for your buck. Although it will likely be safe to eat for significantly longer, the flavor and texture may degrade over time.
---
Future Essentials Powdered Yellow Cheddar Cheese
Although the Kraft product above has little in common with the packets that come inside boxes of Macaroni and Cheese, this option from Future Essentials could be its twin.
It comes in a #2.5 can, which holds about 13.5 ounces of powdered cheese. It boasts a shelf life of ten years or more, and costs around $17 per can.
Be aware that this option won't rehydrate to resemble fresh cheddar cheese. Instead, you'll get a creamy liquid that's perfect to mix with pasta or drizzle over other warm dishes like baked potatoes.
---
Easy Cheese Cheese Snack Sauce
Talking about canned cheese without mentioning Easy Cheese is impossible. It has an almost cult following in the U.S. The people can't seem to get enough of the cheese product that you can spray directly into your mouth.
Created in 1966, it's available today in dozens of different flavors. Which is a great way to get some variety in your meals. Although it's not the most nutritionally dense option. The ingredients list includes milk, whey, and cheese cultures which deliver about 20% of your daily calcium needs.
Pricing on this product varies widely depending on where you buy it. Expect to pay between $6 for one 8-ounce can if you purchase them individually. Or as little as $3 per can if you buy them in bulk.
They have a stable shelf life and an expiration date set by the manufacturer of 2 years from the date of production, but there is one important aspect of which to be cautious. Because they're stored in a pressurized can, they could explode if they're exposed to excessive heat or punctured.
If this is the option you choose. Make sure that you keep the canisters in a location where they will never be in danger of being exposed to heat or flames or else you will not only lose your stockpiled cheese. You'll also have one heck of a mess to clean up.
Buyer's Guide
There are several additional tips and tricks you can use to determine which canned cheese or cheeses are the right addition to your pantry. Here are a few to consider.
It's Not One Size Fits All
Stockpiling foods for crisis situations isn't something that's one size fits all. Some people may live in an area of the country where annual hurricanes are a concern. Their prepping needs will be vastly different from someone preparing for a long-term emergency situation.
Keep in mind, just because a product comes highly recommended and works well for many pantry preppers, it may still not be the right fit for your unique situation.
Take the time to analyze your needs, the potential conditions under which you may have to use your stores. Then pick which option is best for you.
Mix and Match
Although it may be tempting to find something you like and buy it in bulk, that strategy may not pay off in the long run. It might make sense to have several options stocked that give you access to canned and freeze-dried varieties.
Even if you rotate your pantry regularly, you'll find that some foods aren't eaten as quickly as others. So having a mixture with a range of shelf lives could be helpful.
Shop Around for Deals
No matter who you are, chances are good that you're shopping on a budget.
Once you decide which canned cheese is right for you, compare costs at your local retailers to find the best deal. Places like Costco, Sam's, or other buying clubs often offer significant savings if you buy in bulk. Online retailers may include incentives like a percentage off or free shipping for larger orders.
If you have a small storage space but still want the benefits of bulk ordering. Consider purchasing a large order with a friend. That way, you'll split the cost, the size of the order, and the savings.
Originally posted 2019-06-19 01:25:06.