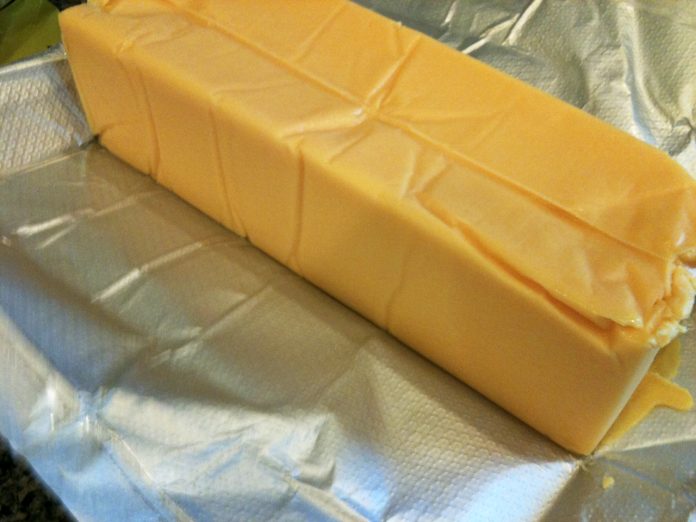 I have always heard that "necessity is the mother of invention", but I also think of it as "the mother of learning something new." This has been the case recently after a fruitful trip to our local grocery store. I discovered on this particular day that the store had on sale block cheese, 1 8 oz block for 1$. I decided that if one cheddar block was a good deal, 20 blocks of a variety of cheese was incredible! I tossed a mild cheddar, a mozzarella, a sharp cheddar, a pepper jack and a cojack into my cart and trotted down the island. In my delight, I found even Velveeta on sale. Dear joy!
Now, in defense of Velveeta cheese PRODUCT, I have to digress here for a sec. Even though I know that Velveeta is the plasticized cheese version, it's a must for any kitchen just because it melts sooooo smoothly. It is perfect for soups with milk. It is true that no one really knows where Velveeta originates. And while we're being told it's made from milk, for all we know, it could be guinea pig milk. However, while we think about how one milks a guinea pig, the rest of America enjoys its Velveeta cheese, picante sauce and perhaps some ground beef flavored with taco seasoning. Velveeta is to the world of cheese what Spam is to the world of ham. Each one has their own intent.
And so, I got my Velveeta and went to check out. On my way home, it occurred to me that it would be a major job to keep all this cheese fresh. Normally, I grind my hard cheese, place it in bags so I can vacuum and freeze it on my FoodSaver sealer, but it was going to be a massive amount of grated cheese. What if I were to have some sliced cheese? My experience had been less than effective with freezing cheese blocks for slicing. I was completely upset about the frozen Velveeta, so what should I do? What to do?
Thanks to the Internet. The remedy had been Enola Gay at Paratus Familia. Can it! Can cheese? Really? She demonstrated how to can hard cheese and that made me think about canning the Velveeta too. I researched and studied, and found a variety of ways to do that. I ended up what I think worked best for me. And I'll show you how I canned the hard cheeses, then the Velveeta. Think about practical. You can't believe how good canned cheeses is to have. The hard cheese can be shredded and cut and the Velveeta is as fine as if it were in the bowl. Around this point, I think I could throw in the disclaimer that I haven't noticed something that suggests that government watchdogs have issued their approval seal to this, but then, they don't like us filling apple pie canned either. From everything that I've read, those canned cheeses last up to two years.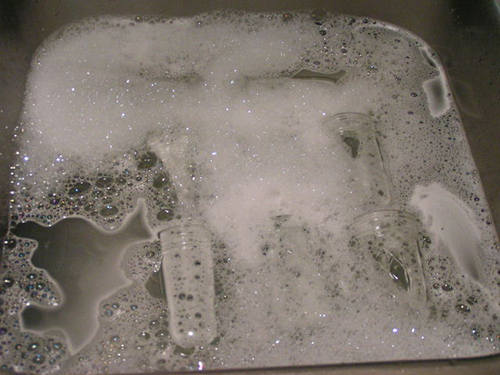 It is necessary you have your jars sterilized. Here, I use the size of 8 oz, that's good for two. I wash them first in hot, soapy water, and then put them in a large pot to bring to a boil. Then I take them off to put them on a dry towel upside down. Broad mouthed jars are necessary for easy removal of the cheese.
Related: Best Canned Cheese For Emergency Survival
Canning Hard Cheeses

Shred the cheeses. You can use a food processor here; but by hand isn't all that much more time-consuming.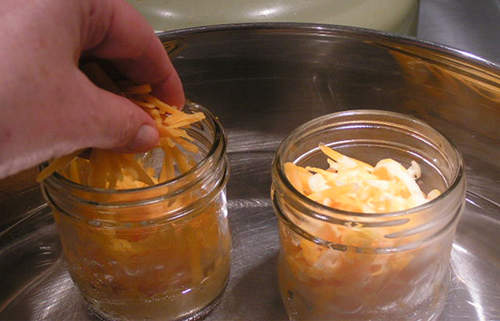 Place some shredded cheese into the warm jars, and place the jars in warm water that you slowly bring to good and hot. Keep adding more cheese as the cheese melts.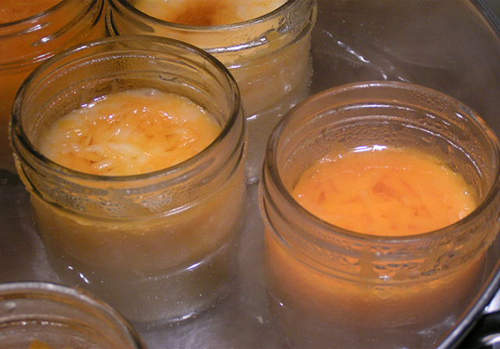 Continue adding and melting the cheese until it reaches a 1" headspace. This requires a deeper headspace because of the oils.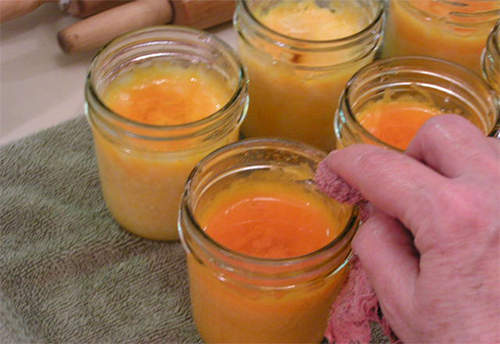 Carefully wipe the tops of the jars with a damp; soaped washcloth to remove all oils.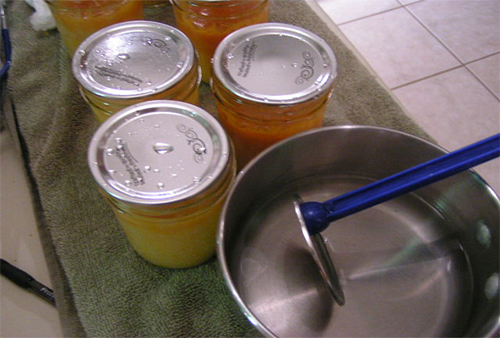 Warm the lids in nearly boiling water, then place them onto the jars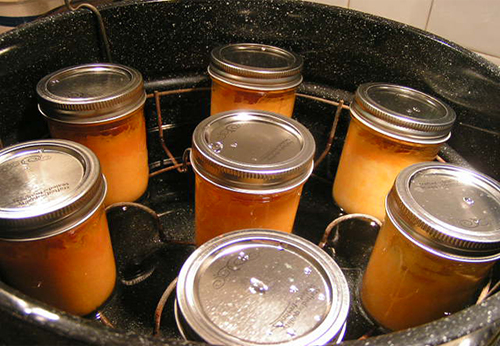 Put the rings onto the jars, not too tight, and place into the rack of a water bath canner.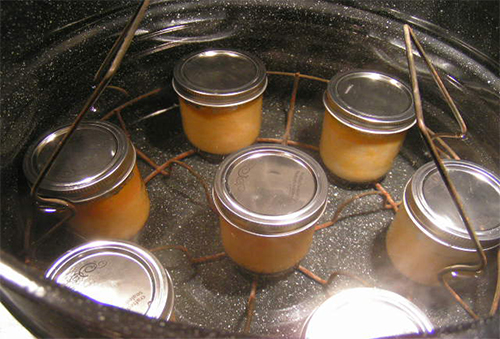 Lower the jars into water that has already been heated. Putting them into cool water will crack the jars. Bring to a boil and at the point of boiling, set your timer for 40 minutes. Process for 40 minutes.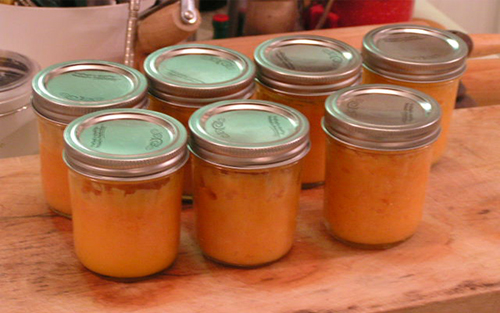 Now here is the important part!! I didn't figure this out until I pulled the first jar out of the water. DO NOT REMOVE THE JARS FROM THE WATER UNTIL THEY HAVE COOLED DOWN. When you take them out of the boiling water, the cheese oil spills out of the jars and is not going to seal them. Just leave the cheese jars under water and allow to cool down slowly. THEN extract them from the bath. When they have cooled all the way down; I remove the rings and wash jars and rings in hot; soapy water to remove any oils. I reapply the rings after drying, and store the cheese jars.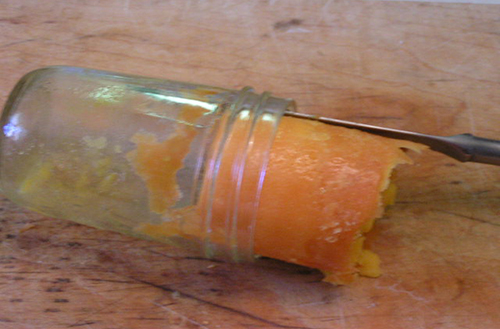 Open the jar and slip a knife inside the jar and around the cheese, to extract the cheese. The cheese will just slide out. You should grate it on then. It's a little sticky at first, but that's only because it's at room temp and a few oils have dispersed.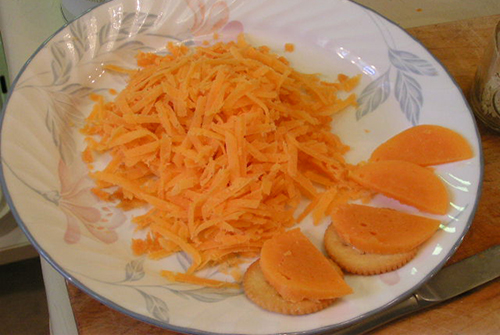 Or slice it! It's perfect for crackers and cheese.
Related: 10 Foods Not to Store
Canning Soft Velveeta or Soft Cheese

Cube a box of Velveeta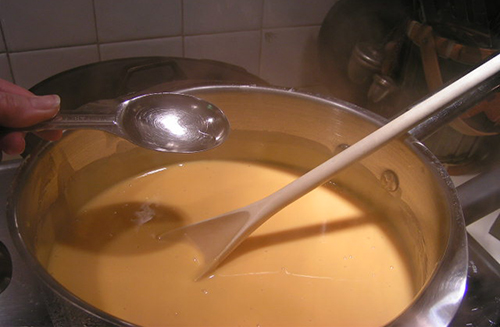 Place in a double boiler with 3 oz canned milk and slowly melt. When melted, add 1 tablespoon of vinegar and stir in.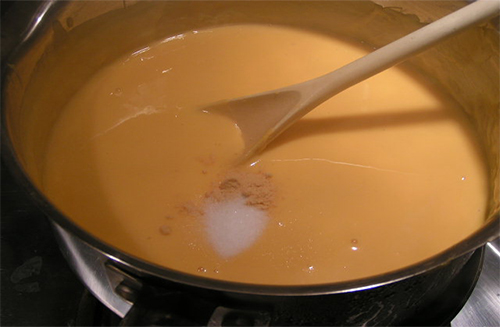 Add 1/2 teaspoon of dry mustard and 1/2 tsp salt and stir well until totally smooth and melted.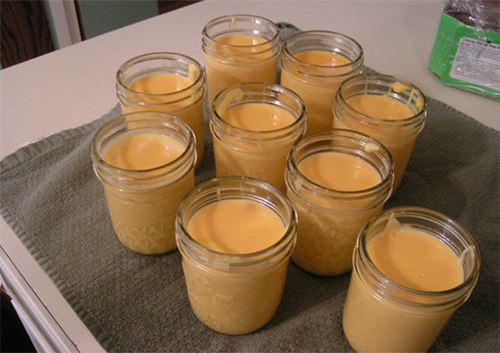 Pour the cheese into jars leaving a 1/2 inch headspace. I use 8 oz jars. I can always open two if I need a pint.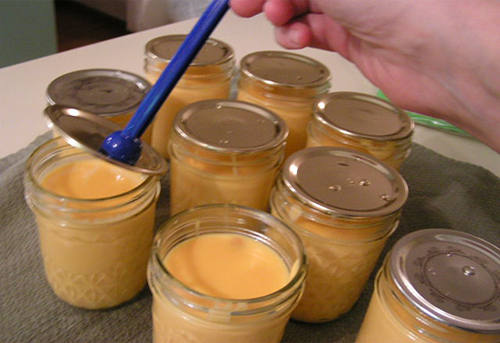 Carefully wipe the rims of the jars to remove any wayward cheese and place lids that have been heated in nearly boiling water on top of jars.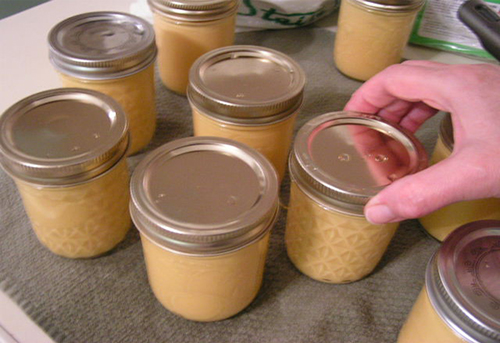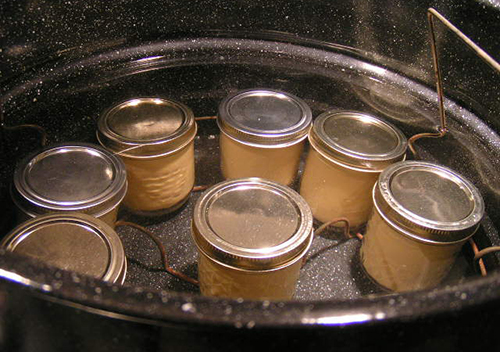 Put rings onto the jars and tighten down slightly. Place jars in water bath canner rack and lower into water that has already been heated so not to crack the hot jars of cheese. Bring the water to a boil and at the point of boiling, set your timer for 10 minutes and continue to boil.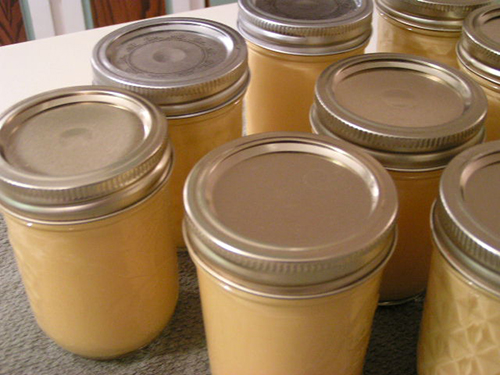 Remove jars from water and allow cooling on a dry towel. You will hear the lids pop as they seal.
And so, out of necessity, I've learnt something new. I LOVE cheese in the can. It's so quick and I needn't think about cooling. When it grows older, the cheddar gets a little sharper and tastes better when opened. So cut the cheese, then call me "Happy"!!