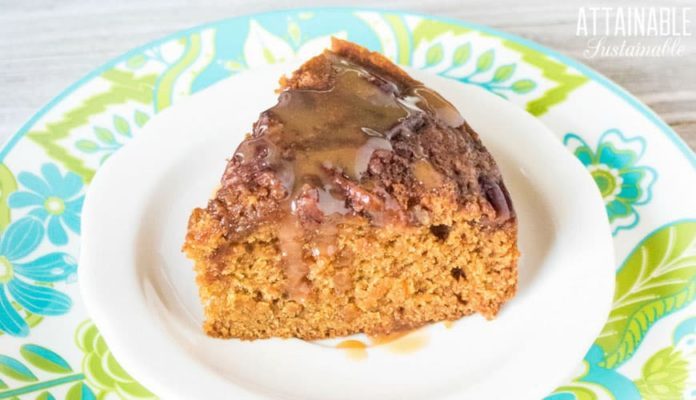 Reasons Instant Pot cake baking rocks
Baking an Instant Pot cake doesn't heat up the house during hot summer months.
College dorm cooking! Without easy access to an oven; college students don't always get to indulge in homemade sweets.
The Instant Pot becomes an extra way to bake during busy holiday meals when the oven is overloaded.
Apple spice cake
The only special equipment you'll need to make this cake is a 7-inch springform pan that fits into the Instant Pot.
You can mix this apple spice cake with a stand mixer; a hand mixer; or with a simply wooden spoon. Use what you have!
This is best made with homemade applesauce (it's so easy to make!); but if you don't have access to fresh apples for making your own; opt for unsweetened applesauce.
The caramel sauce in this is optional. If you are likely to eat this apple spice cake for breakfast; you might skip it. But for dessert? Go for it! This 3-ingredient caramel sauce is made with maple syrup and is easy to make.
Apple Spice Cake with Pecans
This apple spice cake can be baked in an Instant Pot or a standard oven.
Total Time
1
hour
20
minutes
Ingredients
1 

tablespoon 

oil

5

 

tablespoons

 

unsalted butter

 

softened

1/2

 

cup

 

brown sugar

1

 

egg

1/4

 

cup

 

milk

1

 

cup

 

unsweetened applesauce

1

 

teaspoon

 

vanilla

½

 

teaspoon

 

cinnamon

¼

 

teaspoon

 

ground nutmeg

¼

 

teaspoon

 

ground cloves

1 1/2

 

cups

 

all-purpose flour

1

 

teaspoon

 

baking soda

1/2

 

teaspoon

 

baking powder

1/2

 

teaspoon

 

salt

¼

 

cup

 

halved pecans

2

 

tablespoons

 

brown sugar

Caramel sauce for topping

 

optional

1

 

cup

 

water

 

in Instant Pot
Instructions
Grease a 7-inch springform pan with oil.

Cream together butter and sugar. Add in remaining wet ingredients and mix well.

Combine flour; baking soda; baking powder and salt. Add to the wet ingredients and blend until well combined. Pour batter into the springform pan.

Mix together 2 tablespoons brown sugar and pecans and spread this over the top of the batter in the springform pan.

Top applesauce cake with aluminum foil and place the springform pan on Instant Pot trivet.

Add water to the pressure cooker and then place the springform pan into the pressure cooker on top of the trivet.

Close the Instant Pot and seal the valve. Set to a manual pressure cooking time of 60 minutes.

Allow for a natural pressure release before removing the lid. Remove apple spice cake and set on a wire rack to cool.
Recipe Notes
To bake this apple spice cake in a conventional oven; preheat the oven to 350 degrees. Bake cake for 50-60 minutes or until a toothpick inserted in the center comes out clean.
Originally posted 2019-06-19 02:18:40.