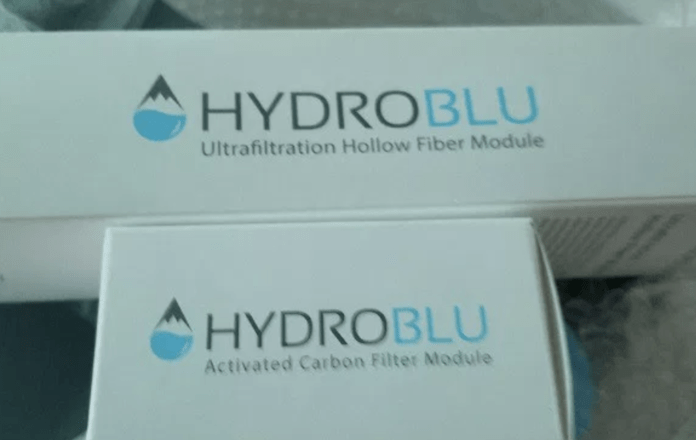 Recent reviews have been a bit repetitious; no really innovative products or approaches. Recently; however; HyrdoBlu contacted me regarding reviewing their innovative product line. I picked up two of their amazing products; Pressurized Jerry Can filter and the GoFlow bag and Versa Filter kit and set about testing them.
I started this review by doing what I always do; reading the instructions. Now many companies make extreme claims; usually relying on the most beneficial testing results from an array of products tested. This applies especially to ammunition; water filters; sleeping bags; and tents. You will find that under normal conditions none of these products from many manufacturers actually stand up to testing. Ammunition will rarely meet FPS stated regardless barrel length or twist; water filters almost always fail to do what has been stated in terms of lifespan and ability; sleeping bags as we all know MUST be purchased 10-15 degrees lower than expected temperatures and tents; well; lets be honest; who has ever found a 3 person tent that sleeps 3 real people? HydroBlu; unlike so many others; was clear in their claims and what would more than likely void the same claims. (I like this!)
The instructions for these filters stated that you want to have relatively clean (as in no sediment) water for the filters to have the longest lifespan and of course it also stated that you want to rinse your filters out to keep them performing. These are obvious things for most of us; after all; solid maintenance is essential as well as not intentionally causing damage when it comes to camping equipment. Of course; if you have children or spend time with people who have never really done the camping thing; well; odds are good you will run into some mishandling of equipment. As a result; my testing is hard on equipment. Extremely hard on it; in fact; it is my goal in most cases to break it and see how long it can last and perform prior to breakage.
Testing consisted of a few basic tests; as well as some more advanced testing and the ultimate test; my family drinking the water! HydroBlu equipment was setup per the instructions; being careful to soak the filters for a few minutes and toss the first few milliliters of water (on any new filter this is important).
I started with rainwater that is collected over the course of the year; it is untreated meaning no bleach; however; it is not clean; after sitting for several months in a holding container and in the sun; well; it can get ripe. Plants love it but the taste and likely bacteria level are quite high! With my daughters help we filled the Jerry Can up and after running through the basic startup procedure began pumping for water! Crystal clear and amazing taste; as in absolutely amazing; nothing like a good activated charcoal filter for taste; add on the hollow microfiber filter and you have water that is simply delicious. The smaller Versa Flow filter also did an amazing job; it comes by itself for $20 shipped on Amazon.
Next test was adding sediment to the water; garden dirt; fertilizers and even dung that is mixed into it. The following video shows the results of this test; again; crystal clear! ( I did run an on video startup procedure again to help new buyers better understand how to get running;)
My daughter and wonderful wife and son loved the taste even the in-laws enjoyed a cup as well! All I can say is it works; and with some quick testing using my handy WaterSafe testing kit. Everything came back good; in fact; better than good.
The last test run was on one of the local cow ponds; now before anyone says; "Really a cow pond?" it is important to understand something. Arizona cow ponds are cesspools; they are loaded with bacteria; generally; a soupy brown color and almost always have dead animal parts or animals floating in them. From predators through ignorant out of state city dwellers shooting animals in them they are a true disease potential. However; if your water filter can make it work with these; it can make it work anywhere! This last test ended very well; in fact; the water was again sparkling clean. As is normal I used a shemagh to filter large sediment out prior to filling the Jerry Can and GoFlow Bag up. After this; I simply ran through normal filtering approaches and as I write this am sitting up perfectly fine after drinking a full glass from each filter over 24 hours ago!
So what do I think about these; well the Jerry Can Pressurized Water Filter system runs $125 on Amazon Prime; or directly from HydroBlu (link here) versus the Katadyn or similar filters that run between $75 and $300 (and do far less). I do suggest getting an extra ACFM (Activated Carbon Filter Module) for $8 and a Viral Filtering Module for $45. This will cover all of your bases and allow you to have an extended amount of clean; fresh water when camping long term. Bear in mind the ACFM has a limited lifespan; 250 gallons with relatively sediment-free water. This is quite normal however for Charcoal based filtering systems. Additionally; if you know your water source is free of heavy metals and extreme sediment you can use the system without the ACFM and you will get close to 10;000 gallons of fresh clean water.
If you question your water source; use both always! One more small thing to remember; these are a gravity water filter and a low-pressure filter system they will not run like a kitchen sink. The HydroBlu Jerry Can will filter around 1 gallon every 3 minutes and the GoFlowBag and Versa filter kit will give you approximately 1 gallon every 5 minutes or so.
Some quick recommendations with the filtering systems; (both of them); rinse them out after using and let the carrying bags or containers dry out; per the manufacturer leaving the hollow fiber and charcoal wet but clean will help extend the lifespan. This is an interesting suggestion and something I did not do before with any of my filters. So what do I think about these filters and what are the pros and cons. As always have you had any experience with these filters and if so; what was it like?